BOOKS IN PRINT
C & R PRESS

"Xu's engrossing, whirlwind metafictional tale effectively demonstrates the far-reaching effects of politics and culture on the smallest, most personal aspects of our lives." Publisher's Weekly

"An ambitious, witty and generous novel" Asian Review of Books

"Beautifully refined in both intelligence and prose," says Pulitzer Prize in fiction author Robert Olen Butler "this novel will not let a reader put it down."

Novelist & Professor at the University of East Anglia's creative writing program Vesna Goldsworthy describes it as "a mesmerizing, polyphonic plot . . . written by a truly transnational writer at the height of her powers," adding that the novel "educates and delights the reader at the same time."

The American Book Award winning writer Alex Kuo calls it "a must read for anyone interested in understanding the merging and intractable financial and cultural intersections between China and the United States, and their everyday impact on their citizens."

Fiction author Trinie Dalton says "this whole story exudes contemporary updates on The Great Gatsby's decadence, yearning, and expat experimentation . . . is technically brilliant for its undulating points of view and diverse chronologies."

Pulitzer in fiction winner Adam Johnson says that "Xu Xi deepens her explorations of absence, alternate realities, and the elusiveness of identity in our increasingly fragmented world . . . with heart and wisdom, That Man in Our Lives is ultimately an intense examination of the very nature of storytelling."

According to historian & author Nigel Collett, "Gordie is actually just life itself, the core we are all seeking but which evades us always, what we want but don't quite know why."
HKU MUSEUM & ART GALLERY/COLUMBIA UNIV. PRESS

Interruptions is an unusual project with roots in the tradition of ekphrastic writing. Ekphrasis, the literary response to visual art, has a long history in poetry: the poet gazes at a painting or sculpture and responds with a poem. Here, the photographer and writer engage in a dialogue between Clarke's selection from his archives and Xu's essay written in response to each photo, which, in turn, triggers the next photographic choice. Begun in May 2012, the "conversation" continued for a little over two years, resulting in this book. The writing is some of Xu's most intimate personal essays.
SIGNAL 8 PRESS

What do we think we desire? What do we truly desire? These are the two competing forces underlying Xu Xi's latest fiction collection, ACCESS, released November 2011 by Signal 8 Press. These thirteen tales are at once acerbic and heartbreaking, directing our gaze at the incongruities of human relations and the persistence of wounds our hearts cannot heal.

Contents
TALL TALES: Anon. • Iron Light • The Wang Candidate
CIRCULAR TALES: Space • To Body To Chicken • Servitude
FAIRY TALES: Access • Agora • Famine
OLD WIVES' TALES: Trashy Desires of Women Nearing Fifty • Available
BEASTLY TALES: Crying with Audrey Hepburn • Lady Day

OTHER WRITERS SAY:
"A collection of tales with hints of Chaucer, ranging from the world of privilege to office workers and massage girls; from heavily ironic vignettes on the corporate world to edgy stories of broken lives and selfish times . . . the access code to this grammar is to glean the shadow of loss lying between language and the loneliness of existence."
Brian Castro, author of Shanghai Dancing, The Bath Fugues and The Garden Book

"Xu Xi has a sharp ear. The dominant voices in her latest collection of short stories belong to the bold and elegant Chinese women, the high achievers, losers, dreamers and dancers with families and lovers, who are separated by continents and cultures. Their stories, unsentimentally told, are a stimulating read."
Suchen Christine Lim, author of A Bit of Earth, Fistful of Colours and Rice Bowl

HAVEN BOOKS

Somewhere between Hong Kong and New York, life does an abrupt shift for Gail Szeto when her mother, her last family member, is killed in an accident. For Gail, a mixed-race, single mother who buried her young son only two years prior, all she has left is a hard-won career at a global investment bank. Life rapidly goes into free fall for this woman with a complicated past, who was once so sure of her direction in life, who can now see no clear future path. With an international cast in New York, Hong Kong and Shanghai, this novel dramatizes a Sino-American balance of power at a staggeringly intimate level.

The manuscript of this novel was a finalist in the inaugural Man Asian Literary Prize.

"Smart, eloquent, cosmopolitan . . . a scintillating accomplishment." Don Lee, author of Yellow, Wrack & Ruin.

"An indispensable work of contemporary fiction by an important novelist at the height of her powers. A compelling, seductive reading experience." Nicholas Jose, Australian author & Man Asian Literary Prize judge.

"This accomplished, playful and graceful novel shows how swiftly life can change or seem to, depending on where you stand." - Jill Dawson, bestselling author of The Great Lover

"Startling insights into delicate yet hardened personae, flying alone and together." - Alex Kuo, American Book Award winner for Lipstick and Other Stories

"A riveting character whose contradictions and longing to be her own woman make her fascinating to watch as she struggles for integrity . . . she's recognizable, daunting and beautifully drawn." - Rosellen Brown, bestselling author of Before & After
HONG KONG UNIVERSITY PRESS

An unusual book of quirky essays from her 'city-village' — of Hong Kong's vanishing culture and sensibility as it transforms into a space that is 21st Century China. Zooms in on her life: on family, friends, and a professional history as both business executive and author.

What some other writers say:
'Proves her mettle as a canny and au courant essayist and observer of THE postmodern city' Robin Hemley

'Her brilliant riff on the 'city-village' that is also her life moves through changing moods and times in a place of desire, dream and disappearance, sparkling, alert, searching - a real literary pleasure.' Nicholas Jose

'This journey into history, class, culture, and place is urgent, insightful, and beautifully written.' Sue William Silverman

'Eclectic, perplexing and deeply personal account of her home city.' Justin Hill

'Cultural anthropologist and traffic cop standing at the diasporic intersection of the most exciting city in the world.' Shawn Wong


CHAMELEON PRESS
For millions of wah kiu or "overseas Chinese," life beyond China's borders is fraught with questions of identity. These eleven stories and thirteen essays take us round the globe, exploring the joys, fears, idealism, disappointments and dreams of the wah kiu. One critic describes the author's sensibility as "keenly observant, generous and compassionate," while another says her "unparalleled literary reach touches several continents with a new and innovative diasporic global language." This is the first collection to include essays.
CHAMELEON PRESS
An insider's Hong Kong
The time is 1995. Life is surreal, swift, out of control as Hong Kong rushes towards that inevitable moment, the "handover" to China in 1997. Here are four lives in a changing world, in a city that is global, contemporary, and very much "home" to Chinese and Americans alike. The Unwalled City conjures an extraordinary feeling of place in a book that one reviewer says is filled with "believable characters that are fully human in their inner contradictions and complexity" and another calls "truly a novel of Hong Kong." Like the city itself, each of these native, and accidental, Hong Kong "yan" must leave behind the memory of what was in order to accept that which inevitably will be. (A China Institute of New York Book Club selection)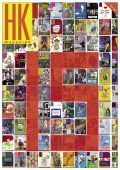 HK Magazine names THE UNWALLED CITY one of the top 15 books on Hong Kong: "(her) novel of cross cultural love . . . has become the 'Suzie Wong' of the new century, only better written and less Orientalized."
CHAMELEON PRESS
From the turbulent sixties through the nineties, a "history" of Hong Kong through fiction. Stories from each decade feature historical incidents but the focus is on personal lives. Critics and other writers praise the collection as "immensely gratifying . . . from a truly international writer" and "probing . . . weaving together East and West across time and space" as well as "a compelling history between the sheets" that "contains the kind of complexity and inter-connectedness of Hong Kong itself."

2nd ed. includes teacher's guide.
CHAMELEON PRESS
Love, and lust, unrequited and transformed in two of the world's great cities
October, 1987. Rose Kho, Hong Kong girl who left home, returned and has left it again for New York to escape her marriage, reflects on life, scotch in hand. The sun sets on the Statue of Liberty, while her employer's premises are being searched by the Feds; they are under investigation for illegal arms running. The novel rewinds through a drama in Hong Kong of the seventies. Set against the Asian and international airline world, Hong Kong Rose was an instant bestseller upon publication in 1997 after which it was sadly allowed to lapse out of print. This new edition reinstates an important work that boldly tackles courage, cowardice and compromise in modern Asian society.


CHAMELEON PRESS

CHINESE WALLS (Novel 1994)
It's the sixties. U.S. sailors on R&R prowl the streets of the waterfront in Hong Kong where the Indonesian-Chinese Hsu family lives. "What's a prostitute?" nine-year old Ai-Lin asks her older brother Philip who is horrified she knows the word. Eldest brother Paul tries to explain about the girls with the "orange hair" Ai-Lin has seen next door at Chung King Mansion. Written in the first person, the book, according to one reviewer, "leaves no cheap or smutty aftertaste," and is "like listening to a close friend talking about her life, her family, her love and her frustrations." This controversial first novel launched the author's career in Asia.

DAUGHTERS OF HUI (Novella/Stories 1996)
This collection of a novella and three stories was named one of the top ten "best books of Asia" of 1996 and won wide critical acclaim. Reviewers say the author "addresses the prudery of Confucian values" and remark "the streak of mischief in the tapestry of her story line." Others note that "though the subject matter can be raunchy, the sleaze element is conspicuously absent," and also that her work is "arrestingly poignant."
Edited by Marshall Moore & Xu Xi
CCC PRESS
New Hong Kong short fiction. Eight writers explore the questions of what it means to be in, from, and of the Hong Kong of the past, present and future.
HAVEN BOOKS
Brings together more than forty talented writers and poets, Fifty-Fifty is a collection of daring creative responses to the question posed by editor Xu Xi: What are Hong Kong's odds as it counts down 50 years of the S.A.R.? (Special Administrative Region)
Edited by Mike Ingham & Xu Xi
HONG KONG UNIVERSITY PRESS, 2005

An anthology of recent Hong Kong English-language drama. All the plays were written in the last ten years and so capture and reflect the fast-developing multiculturalism of the Hong Kong scene -- a somewhat paradoxical phenomenon in view of the 1997 return to China Mainland sovereignty.

Thematically, all the plays have their unique voice and subject-matter, but the quest for personal and communal identity is a theme goes to the heart of all present selections. The anthology epitomizes the increasing interconnectedness of previously segregated facets of Hong Kong culture, indicating the very welcome tendency towards more open dialogue between Chinese and non-Chinese practitioners and audiences.

The anthology contains the complete texts of the shorter plays and strategically selected excerpts from the longer plays. All the texts in this collection were written as English-language versions for performance rather than literary translations, although for some a Chinese-language text was also written.

Edited by Xu Xi & Mike Ingham
HONG KONG UNIVERSITY PRESS, 2003

The first showcase of postwar Hong Kong literature originating in English. Fiction, poetry, essays & memoirs by over 70 authors.

"Poignant, gorgeous, stunning, disturbing, exhilarating writing" (Arthur Sze)

"This most necessary and wildly ambitious collection is as boisterous and packed with voices as a Hong Kong steet" (David Wong Louie)

"An anthology collected by two who are themselves literary pioneer" (Bino Realuyo)

"Hong Kong has a soul and this anthology proves it" (Robert H Abel)